Learn about the different types of roof systems available for commercial and industrial buildings in Florida.
Flat roofs are commonly seen on most commercial buildings because of their efficiency and cost-effective pricing. The variety of flat roofing options has grown substantially over the years. With so many options on the market, it can be overwhelming and confusing to determine which works best for your building's needs. Here we'll compare the different features and benefits of the most common flat roofing options and see how they handle Florida's rainy season, Hurricane Season, and everything in between.
Asphalt has long been the standard for flat roofing systems due to the fact that it's simple and economical. Built-Up Roofing (BUR), more commonly known as "tar and gravel" or "hot-mop" roofs, is one of the oldest and most reliable commercial roofing systems for low-slope or flat roof structures. BUR consists of alternating layers of bitumen (asphalt) with layers of roofing felt, creating a durable multi-layer membrane that can resist the harshest Florida summers. Adding a reflective roof coating to a BUR system provides additional protection from the damaging effects of the sun and ultraviolet radiation.
Similar to BUR systems, Modified Bitumen roofing systems utilize layers of asphalt that are modified with other materials, like polymers and fiberglass, for increased durability. They are quick to install, easy to maintain, cost-efficient, and ideal for the Florida sun as the granules in the top layer cap-shet provide a reflection from ultraviolet sun rays helping to cool a building. A single-layer system has a typical lifespan of 12-16 years, so adding multiple layers can add up to a 25-year lifespan.

Single-ply roofing systems are an attractive choice for commercial buildings due to their reliability, longevity, and energy efficiency, which adds up to cost savings for the building owner. These low-maintenance systems consist of pre-fabricated flexible sheets of compounded synthetic materials, providing consistency in quality and offering a variety of application methods. The main types of single-ply membranes include:
TPO – TPO roofing systems are the ideal choice for Florida commercial roofs, providing savings when it comes to energy costs and maintenance. Made of a durable material that provides a lifespan of 20 or more years, their white color provides heat reflection and added protection against the sun's UV rays. TPO's heat-welded seams also provide a reliable bond that protects against water and high winds.
PVC (polyvinyl chloride) – PVC roofing is a lightweight system made of two layers of PVC roof material with reinforcing polyester placed between the layers. PVC is more expensive than TPO but provides similar durability and protection against the elements.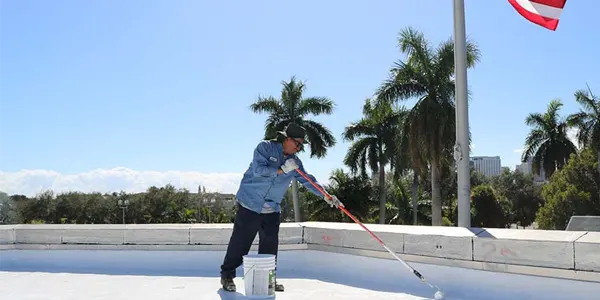 Roof coatings are a great economical alternative to a roof replacement. At half the cost of a replacement, coatings can extend the life of your flat roof up to 10 years. Coatings require a primer, base coat, fabric, additional base coat on top of the fabric, and a final top coat. They provide for a fully-adhered membrane that can withstand extreme weather conditions while also providing cost-savings due to their reflective, UV-resistant properties.
Metal roofing is a more expensive option than the flat roofing options mentioned above but provides considerable longevity, durability, and heat resistance. Offering a variety of aesthetically pleasing options including standing seam, batten, flat, Bermuda and shingled, metal panels are the preferred option for Florida's low slope commercial roofs as they provide protection against wind and allow rain to drain from the surface of the roof, preventing leaks and keeping occupants dry.
Going green is not only good for the environment but is also beneficial to your bottom line, especially in the Sunshine State. Solar panels absorb the sun and convert it to energy which is then used to power the commercial building. Businesses can take advantage of a variety of tax rebates and incentives currently available for further cost savings. Interested in solar? Advanced Roofing is an award-winning commercial solar energy contractor specializing in the design, procurement, and construction of rooftop renewable energy solutions.