When operating a commercial property in Florida, establishing and maintaining a strong, secure roof is of the utmost importance. With some of the most changeable and challenging weather across the country seen in the Sunshine State, it is crucial to stay on top of your commercial roofing maintenance.
If this is a new responsibility for you, it can be a daunting task to tackle alone. This is why we have put together some key information on the things you really need to know about commercial roofing. Whether your roof is a top residential property or a commercial one, there are some similarities and some differences you need to be aware of when recruiting roofing contractor services.
Read on to find out more!
Residential Roofing Services
First, let's look at residential roofing. One of the main differences between residential and commercial roofing is in its design. For residential applications, the roofing is typically a smaller size and as such requires less support and industrial considerations.
As such, when recruiting a contractor for residential roofing services it is important to check their specialisms and credentials before agreeing to collaborate. One who specializes in commercial roofing may not be as well versed in the intricacies of residential roofing. After all, certain aesthetic nuances make huge differences between a home and a place of business – you wouldn't want to get those mixed up.
As a general guideline, residential roofing services should command a smaller fee than commercial services, owing to the size and complexity of the structure. Don't be afraid to shop around to find your perfect match!
Commercial Roofing Services
Now, when it comes to commercial roofing, more often than not you are looking for function over form. That's not to say there can't be a middle ground, but for larger-scale facilities, you need something that suits your operational needs as a business.
Commercial roofing may be subject to more scrutinous inspections on a more regular basis when compared to a residential roof. This is due to the legal stipulations put in place when there are personnel working under the roof, and potentially high-value products or inventory stored within. For this reason, regular inspection and top-level maintenance is one of the most common commercial roofing services.
Additional features of a commercial roof include air conditioning and ventilation, both of which are less common in residential applications. The need for increased ventilation can impact the structure of the roof itself, meaning a more complex design, installation, and maintenance process.
Overview of Various Commercial Roofing Services
There is a wide spectrum of roofing contractor services that may or may not apply to your facility. While some of these tasks may be possible to complete yourself, we always recommend working with a licensed professional to ensure high-quality work that stands the test of time.
Services covered by roofing professionals may include:
Depending on the purpose of your facility, you may need integrated air conditioning within your commercial roofing. Whether it's tenants in a residential property or sensitive inventory in a warehouse, it's important that they're comfortable!
As with anything, damage to a roof can be made infinitely worse by neglect. Even a small issue can grow to a large-scale problem if left untreated. See it, sort it!
Highly industrial equipment, such as cranes, can be invaluable when working on a large-scale roofing project – and this is certainly one task best left to the experts. From re-roofing services to revamping roof cladding, crane support can be a game changer.
Sometimes, repairs can't wait. Unexpected extreme weather conditions or acts of nature can cause serious damage to your roofing, and in turn cause damage to everything inside the building. Certain contractors specialize in emergency repair, responding to your call at the drop of a hat.
In the unpredictable Florida climate, lightning can be a real, whilst rare, threat to your roofing. Roof lightning protection systems control the energy absorbed from a lightning strike and efficiently disperse it into the ground, leaving little to no impact on the structure.
For new builds and renovations, custom-built roofing provides the perfect fit for your new project.
If you're acquiring an older building or your existing roof has suffered irreparable damage, a re-roofing service can provide you with a brand-new roof to last decades.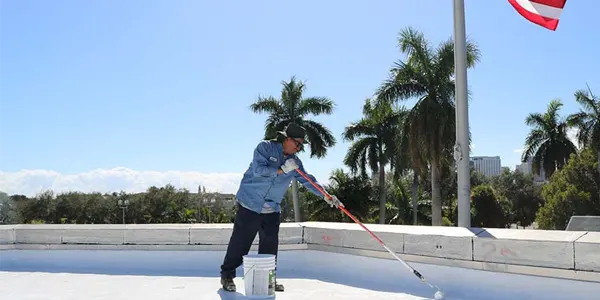 Depending on your desired application and usage, there are a range of roof coatings available. From silicone coatings to offer UV protection, to polyurethane for increased foot traffic stability, a roof coating contractor can provide a range of options
Prolong the life and performance of your roof with effective roof management services, giving you years more coverage and thousands of dollars in savings
For buildings in areas of extreme weather, including hail, high winds, and heavy rain, sheet metal roofing can be one of the most effective protection tools against the elements.
Skylighting can offer a number of benefits to commercial property managers, including reduced lighting costs and increased work satisfaction for personnel within the facility.
Think ahead and implement sustainable measures such as solar energy to reduce costs, increase efficiency, and minimize the impact on the environment.
Choosing the Right Commercial Contractor
Whether you're looking for a roof coating contractor or something more urgent like an emergency roof repair specialist, there are a few key considerations to keep in mind.The three key factors to consider are:
It's easy to get tunnel vision and focus primarily on the price, but this can be a very short-term approach. You may save a few dollars at the start, but you leave the door wide open for faults and damages down the line if the work is substandard. A great way to find quality, reliable professionals is to ask around! Any business owners who manage a property like yours may already have worked with a contractor in the past whom they would be happy to recommend. Alternatively, shortlist a few companies online and compare their client testimonials to get an idea of their work quality.
Before making any commitments, it is important to ensure the contractor you are working with has all the necessary qualifications and certifications. It is not unheard of for contractors to lack the necessary credentials and this can lead to a nasty surprise or two down the line. Find someone certified and insured, and rest easy knowing you are in good hands.
Finally, we have pricing. Whilst it should never be the number one deciding factor, it is always a key part of the equation. We would recommend first shortlisting three to five contractors using the criteria above, then request quotes from each and make your final decision based on the financials.
To summarize, your roofing – whether residential or commercial – is something that will quietly protect you and your business each and every day of the year. With this in mind, we hope that taking shortcuts on this issue is an idea of the past.
Identify your requirements, research potential contractors, and evaluate all of your options before making a final decision. This will be one which stays with you for decades, so don't rush it!
Most contractors will be willing to offer a free, no-obligation consultation, so reach out and discuss your needs. Don't be afraid to ask!