Introduction to Jacksonville
Top Commercial Roofing Company
As a Jacksonville Commercial Roofing Company, we have built a reputation for ourselves with our vast experience, unparalleled expertise, and unwavering dedication to delivering high-quality work to businesses throughout Florida. Trust us to provide the perfect solution for all your roofing needs!
Get Quote Now
(866) 365-6071
Serving Jacksonville and Duval County with Professional Commercial Roofing Services
Advanced Roofing Inc. maintains seven offices in Florida, including our Jacksonville location.
We proudly serve businesses throughout Duval County, as well as Nassau, Clay, St. Johns, Baker, and the surrounding areas.
Why Jacksonville Needs Quality Commercial Services
Jacksonville's strategic location, affordable cost of living, and favorable business climate have made it an attractive destination for businesses looking to expand or relocate. Now Jacksonville is home to countless businesses that rely on reliable and high-quality commercial roofing systems. To ensure the longevity and performance of these roofs, it's crucial to have access to quality commercial roof maintenance services in Jacksonville.
By partnering with Advanced Roofing Inc., a reputable commercial roofing contractor in Duval County, businesses in Jacksonville can benefit from various advantages, including improved energy efficiency, reduced maintenance costs, and increased safety.
Experience and Expertise You Can Trust
Choosing Advanced Roofing Inc. as a commercial roofing contractor in Jacksonville is a wise decision due to our extensive 40 years of experience in the business, providing exceptional roofing services to commercial, industrial, and government clients. Our knowledge and expertise in advanced roofing technologies and best practices are evident in our successful track record of satisfied customers and completed projects: Naval Air Station, J Tech Facility, Crown Products, Anheuser Busch etc.
Exceptional Service and Customer Satisfaction Guaranteed
We prioritize communication with our clients by having project managers stay in touch and provide detailed reports throughout the process. This level of transparency and attention to detail ensures that clients are kept informed about the progress of their roofing projects. It also allows for any questions or concerns to be addressed promptly, leading to a smoother overall project experience.
The Economic Landscape and Growing Population of Jacksonville
As a result of its growing population and strong economic growth, Jacksonville is expected to continue to be a major economic center in the region. This is good news for both residents and businesses, as the city continues to provide a wide range of opportunities for growth, investment, and prosperity.
Some of the major key sectors driving the economy in Jacksonville include healthcare, logistics and transportation, finance and insurance, information technology, and manufacturing. To keep businesses running smoothly and protect commercial properties, it's essential to have reliable commercial roofing contractors in Jacksonville that can provide quality services, including repairs, maintenance, commercial roof coating, and commercial re-roofing.
Our Commercial Roofing Services
Professional Commercial Roofing Services in Jacksonville
Advanced Roofing Inc., a leading commercial roofing contractor in Duval County, has been serving commercial customers in North Florida for over 40 years, providing top-quality commercial roofing services to various industries, including condominiums, healthcare, government, schools, and businesses, with a team of 550 skilled employees and 75 service vehicles dedicated to delivering exceptional roofing services.
Quality Workmanship and Materials for Your Commercial Roof
At Advanced Roofing Inc., we prioritize quality workmanship for every commercial roofing project we undertake. We also constantly strive to improve our processes and techniques to ensure that our clients receive the best quality materials available in the industry: Johns Manville, Tremco, Soprema, Durolast, and SafePro Safety, to name a few.
Professional Re-roofing Services for Commercial Properties
We understand that replacing a commercial roof is a significant investment, and we are committed to providing our clients with the best possible solutions that meet their unique needs and budget. Therefore, Advanced Roofing Inc. provides commercial re-roofing services in Duval County, which include a thorough inspection of your current roof, a detailed assessment of its condition, and a recommended course of action. Our team uses the latest technology and equipment to conduct accurate assessments, ensuring that we identify any potential issues before they turn into major problems.
Restoring the Strength and Integrity of Your Commercial Roof
Our goal is to restore your commercial roof to its original strength and integrity, providing you with the peace of mind that comes with knowing that your property is protected from the elements. Some techniques used in the industry for roof restoration include roof coatings, membrane systems, metal roof restoration, and repair and replacement of damaged roofing materials. As the #1 commercial re-roofing contractor in Jacksonville, we have the expertise and resources to get these jobs done efficiently and effectively, whether you need minor repairs or complete restoration.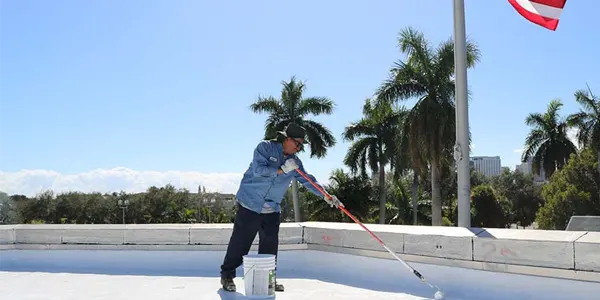 Commercial Roof Coating Services for Jacksonville Businesses
We offer a wide range of commercial roof coating options in Jacksonville, including silicone, acrylic, and polyurethane coatings, which provide superior protection against UV rays, water damage, and other environmental factors. The roof coating process typically involves the following steps:
1. Inspection and Preparation: The first step is to inspect the roof and assess its condition. Any necessary repairs or cleaning should be completed before the coating process begins.
2. Priming (if necessary): Depending on the type of coating and the condition of the roof, a primer may be necessary to ensure proper adhesion.
3. Application of Coating: The coating is then applied using a spray, roller, or brush, depending on the type of coating and the size and shape of the roof. 4. Drying and Curing: The coating must be allowed to dry and cure according to the manufacturer's specifications, typically for several hours to a few days.
5. Inspection and Touch-up: Once the coating is dry, the roof should be inspected to ensure that the coating is even and has adhered properly. Any necessary touch-up work should be completed at this time.
6. Ongoing Maintenance: Regular maintenance, including inspections and cleaning, should be performed to ensure that the coating continues to provide optimal protection for the roof.
Benefits of Roof Coating and Quality Products Used
Advanced Roofing Inc. provides commercial roof coating services in Duval County that not only offer superior protection against weather damage but also help to reduce energy costs by reflecting heat away from your property. Our high-quality coatings ensure a comfortable indoor environment for your employees and customers, resulting in lower energy bills for your business.
We are proud to use high-quality products from top manufacturers like Gaco Western, Karnak, and BASF for our commercial roof coating services, ensuring that your roof is protected and long-lasting.
If you are looking for commercial roof coating in Jacksonville, contact Advanced Roofing Inc. today to schedule a consultation and learn more about how we can help you protect your commercial property.
Timely Commercial Roof Repair Services in Jacksonville
As a trusted Jacksonville commercial roofing company, we know that timely commercial roof repair is essential for protecting your property and ensuring the safety of your employees and customers. Delaying repairs can lead to more extensive damage and costly repairs in the future, and can even compromise the structural integrity of your building. By addressing issues promptly and proactively, you can prevent minor issues from turning into major problems and ensure that your roof continues to provide the necessary protection for your business operations.
Keeping Your Commercial Roof in Optimal Condition
To keep your commercial roof in optimal condition, we recommend the  following:
Schedule regular inspections.
Keep the roof clean.
Address repairs promptly.
Maintain proper drainage.
By following these maintenance tips and working with a trusted Commercial roof maintenance contractor like Advanced Roofing Inc., you can ensure that your commercial roof remains in optimal condition and continues to provide reliable protection for your business operations.
How We Assess Your Commercial Roofing Needs
As #1 commercial roofing contractor in Jaksonville, Advanced Roofing uses a comprehensive process to assess the commercial roofing needs of their clients. During Initial Consultation, we will gather information about the type of building, the age of the roof, any previous commercial roof maintenance or repairs, and any issues the client has noticed.
Our Proven Commercial Roofing Process
The next step is to conduct a thorough roof inspection. This includes examining the condition of the roofing materials, checking for signs of damage or wear, and identifying any areas that may be at risk for leaks or other issues.
Analysis and Recommendations from Commercial roofing contractor Duval County: Based on the information gathered during the consultation and inspection, Advanced Roofing will analyze the data and develop a comprehensive report with their findings and recommendations for commercial roof maintenance or commercial re-roofing.
Proposal and Budgeting: Once the analysis and recommendations report has been completed, Advanced Roofing will present a proposal to the client outlining the scope of work, timeline, and budget. We will work with the client to develop a plan that meets their commercial roof coating or commercial re-roofing needs and budget.
Execution and Follow-up:  Finally, Advanced Roofing will execute the plan, completing the necessary repairs, maintenance, or replacement as outlined in the proposal. We will follow up with the client to ensure their satisfaction and provide ongoing maintenance and support to keep the roof in good condition.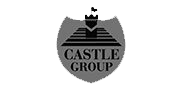 Choose Advanced Roofing for Your Jacksonville Commercial Roofing Needs
Choosing Advanced Roofing as a Commercial re-roofing Jacksonville contractor has several benefits when it comes to commercial roofing projects. Some of these benefits include:
1. Familiarity with the Local Climate: Jacksonville Commercial Roofing Company has an in-depth understanding of the local climate and its impact on roofing materials.
2. Availability: Local contractors are easily accessible and can be available when you need them.
3. Knowledge of Local Regulations: Local contractors are familiar with local building codes and regulations, and can ensure that your roofing project complies with them.
4. Community Support: By choosing a local commercial re-roofing Duval County contractor, you are supporting local businesses and the community.
Your Reliable Partner for Commercial Roofing in Duval County
Advanced Roofing is a leading commercial roofing contractor in Jacksonville that provides a range of services, including commercial roof coating, commercial re-roofing, and commercial roof maintenance in Duval County. Our expert services and high-quality materials make us the best choice for all commercial roofing needs in the region.
Advanced Roofing's commercial roof coating services help to extend the life of the roof, prevent leaks, and reduce energy costs. Commercial re-roofing services offer a long-term solution to roofing problems and can improve the value of the property. We also provide commercial roof maintenance services to help maintain the integrity of the roof and prevent serious issues from developing.
Our experienced team of professionals, exceptional customer service, and commitment to safety and quality make Advanced Roofing the best choice for commercial roofing needs in Jacksonville and Duval County. We provide customized solutions that meet the needs and budgets of our clients, ensuring their satisfaction with every project.
Proudly Serving Jacksonville and Duval County
Advanced Roofing Inc. takes pride in serving the community of Jacksonville and Duval County. We are passionate about providing top-notch roofing services to our local clients and contributing to the growth and development of our community.
Advanced Roofing Locations
Commercial Roofing Service Available Statewide in Florida
1950 NW 22nd St., Fort Lauderdale, FL 33311
1733 NW 21st Terr., Miami, FL 33142
200 NorthStar Court, Sanford, FL 32771
1601 Park Lane South, Jupiter, FL 33458
14231 Jetport Loop W., Unit 5, Ft. Myers, FL 33913
4909 West Knollwood Street, Tampa, FL 33634
4671 Edison Avenue, Jacksonville, FL 32254
Contact the Top Commercial Roofing Company in Jacksonville
Don't wait to address your roofing needs – contact Advanced Roofing Inc. today and take advantage of our expertise and commitment to customer satisfaction. Request an estimate and ask any questions you may have, and let our team help you identify problem areas for repair, restoration, or maintenance.